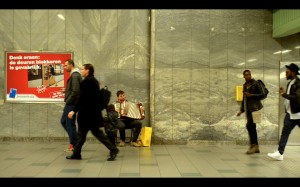 Chaim van Luit
ALGEMENE STUDIES/ETUDES GENERALES
All We Can Do Is What We Are Actually Doing Already III
13.12.2014 – 25.01.2015
Opening 13 December, 20 – 24 hrs
Open: Thursday – Sunday, 14 – 18 hrs
Closed: 25.12.14 – 07.01.15
Chaim van Luit (1985, NL) is interested in getting a handle on time mechanisms and a universal order. Although he considers himself a painter primarily, Van Luit works with different media in an intuitive artistic practice which displays performative qualities, transformations of loose elements and a focus on perception and exploration. Van Luit often uses non-traditional materials from his immediate surroundings, which play an important role in the work: most of it is conceived outside of the studio.

Partly due to his background in graffiti culture, Chaim van Luit is fascinated by underground realms such as basements, car parks and sewers. For his solo-exhibition ALGEMENE STUDIES/ETUDES GENERALES, Van Luit spent several months exploring secretive underlying systems of subway stations in his current residence Brussels. The exhibition title refers to a door sign in one of the stations. Instead of simply explaining what's behind the door, this illogical description struck Van Luit as rather poetic and also applicable to the practice of art. In P/////AKT, Van Luit exhibits video observations of passers-by, fourteen actual waiting seats, and footage of both a musical performance as well as the artist's discovery of a bunker-like control room from which the background music in all of Brussels' subway stations is regulated.
ALGEMENE STUDIES/ETUDES GENERALES is the third exhibition within the series All we can do is what we are actually doing already, which focuses on the core of the artistic process; the instance that triggers the act of making. Also featuring: Scott Joseph (Under the Sign, September 13 – October 12) and Miks Mitrevics & Kristine Kursiša (April Showers, November 1 – November 30). The series is reflected upon by Frank Koolen (moderator) and Marianna La Rosa Maruyama (writer) who wrote the text Made In Brussels. Read it here.
Thanks to Stadsdeel Oost, Gemeente Amsterdam, Stichting Niemeijer Fonds, Prins Bernhard Cultuurfonds and Amsterdams Fonds Voor De Kunst.